Athens
We had heard many things about Athens, the capital of Greece, and most of them were true. It was, in our opinion, not worth staying in this city for a long time. We got off the train and were immediately overwhelmed by the large number of cars blowing dark clouds of exhaust smoke into the air. We were determined to get to the archeological site as quickly as possible.
A rough sense of direction in mind, we walked on the sidewalks along high, plain buildings until we arrived at a square. From that square, we could see the Akropolis so we headed into that direction. While the dirt in the streets was still acceptable, the kind of people on the sidewalks now changed. We saw people completely under drugs, staring in the air, women pushing us to buy cigarettes, and all kinds of other weird people making us feel very uncomfortable in this city. When we finally arrived at the touristic area around the Akropolis, it got much better.
The Akropolis itself was, compared to all the other archeological sites that we had seen, the most intact one. Many buildings were still destroyed, of course, but the Greek seemed to make an effort to restore them. Unfortunately, this was a very slow process (due to funding constraints) and, thus, for years, apparently, the site was filled with scaffolds which made some of the buildings not look two millenia old anymore. We went to the museum which displayed some other archeological artefacts as well as statues of the Greek gods. We must have comitted a cultural crime when we kissed each other in front of the statues, since a woman who worked in the museum came up to us and shouted "No kissing! Not in here!".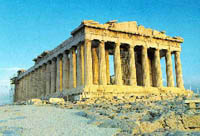 After a walk in the very touristic area around the site, we returned to the train, again passing all the hawkers and junkies. This time, it was not that easy to get to our destination as the train station was not on a hill like the Akropolis (akro=high, polis=city). If we had missed the train, we would have had to stay in this city overnight - one of our nightmares.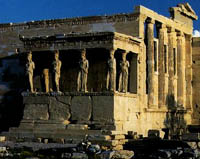 The next day, we took the train from Korinthos to Patras to take the ship back to Italy. This time, we were not as lucky as during most of our trip. All ships included in our Interrail ticket were completely full. After checking out agency after agency, we finally gave up and decided to stay in Greece for one more night and go on a day trip to Diakopto / Kalavrita.