Diakopto / Kalavrita
After getting off the train, we took a taxi (for the first time on this trip) to a compsite nearby. We weren't sure if the taxi fare was a rip-off or if it was really that expensive. The next morning, we walked all the way to Diakopto. In Diakopto, a small town close to Patras, you can take the rack railway up the mountain all the way to Kalavrita with a cheap supplementary fare. Our travel guide promised an interesting memorial but it was the way up the mountain which was most impressive. The railway went slowly through tunnels and along steep rock walls on one side and forest on the other side. On the way up, we saw a few houses in the middle of the forest and, thus, we wondered how people could get from the city to their home and back.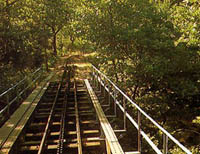 Once we were on top, we did not have much time to walk around so we took the railway back to Diakopto and the train to Patras. We finally got on the ferry and left Greece on a Sunday. This time, the night on the Greek ferry to Italy was not as comfortable as the Italian ferry ride to Greece. It was dirty and way too crowded. We were lying on the back side of the ship and invisible soot was coming down from the chimney. The next morning, we were full of black, smearing spots.
Again, we spent most of the day waiting in Brindisi to catch the train to Rome. With another long and uncomfortable ride on a night train, we made it to Rome and this time, we decided to stay there. Now read all about Rome.