Nice / Cannes
We arrived at a huge railway station in Nice in the afternoon of August 2. Our first destination had been Nice but when we actually got there, we didn't see a lot of it, just the train station and a tourist information office. Nice just didn't look that interesting in the first place. In the office, we asked if there was a good campsite close by. They gave us a brochure that listed a lot of them. They were all outside Nice so we called of them to see if they had a spot left.
The campsite was in a small town called "Villeneuve", just 200m off the beach. The name may remind you of the Formula One driver called Villeneuve but I don't think this small town has anything to do with Canadian race drivers. When we arrived at the campsite, we immediately ranked it number one on our "best campsite list". There were tall trees all over the place and it had clean washrooms. The downside: we had our tent just across some really obnoxious British guys (age 15 or 16). There were some Germans as well who made sure everybody knew they were Germans. Their ghettoblaster was playing "Palma de Mallorca" all day long - the song that drunken Germans typically sing when they're partying hard in Mallorca.
The next day, we went to Cannes. Cannes is known for the "International Film Festival" where famous movie stars show off on the catwalk. You can see that the city benefits. There is a beautiful beach (with lots of tourists attempting to turn red-brownish, sooner or later) and lots of palm trees. Syb and I took a walk along the promenade barefeet. When we went back to the station we browsed some arcades with small fashion stores.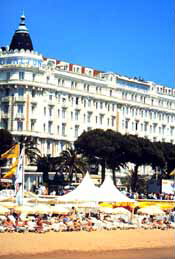 Every night, we went to the beach where people lit campfires. Some were singing, some discussing, and some just listened to the sound of the waves.
On August 4, we finally left: back to Nice, back on the train with new adventures ahead of us. On that day, we passed the French-Italian border. We neither stopped in Genova nor in Milan (Milan looks like a huge industrial city, not very inviting, at least from the train - and I am not sure if you'd be able to see as much fashion there as you do on TV). We were on our way to Verona but, when we saw the beautiful landscape, we quickly decided to get off the train in Desenzano, a town at the Garda Lake or, in Italian, Lago di Garda.