Olympia
Olympia, as you might have guessed, is where the original Olympic Games took place some two thousand years ago. At that time, there were no live transmissions into all countries of the earth, no major corporate advertising, and no millions of dollars involved. The site is much smaller than what is being built for today's modern Olympic Games. A few columns, walls, and stairs are still left standing, indicating where there might have been a gymnasium, a preparation room for the athletes, or a podium. And yet, for some reason, you can still feel the spirit of the ancient Greek competing for the honour of being the greatest athlete in the world.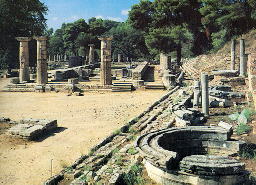 We walked around the ruins and were surprised that everything was accessible, no barriers and no no-access signs. Behind a door shown on many postcards, there was a big field where many of the competitions were held.
There were many tourists on the site. Even on our way back to Tholo, we bumped into a few people we had already met a few days before. Having stayed in this area for a few days, we decided to head to Korinthos, with a stopover in Kalamata.