Rome
First thing we did in Rome: have breakfast at McDonald's. It was the first time we went there since Montpellier at the beginning of our trip but since all we had had was can food, snacks, and gyros, it felt good to have some North American junk food.
One of the interrailers we met in Greece made a suggestion for a good campsite in Rome. To get there, we had to go outside the city, take a few busses and walk a bit. It wouldn't have been very far to walk but, since there were no signs posted whatsoever, we initially went into the opposite direction. We placed our tent in the shade (it was very hot in Rome) and went to explore the city.
After about one hour in the city, we had to realize that the two days we had allocated for Rome were not even close to being enough to see the city. All we could do was take the map and plan a route that would lead us to the major sites. It turned out that we made it but in the end, we were even running to see what we wanted to see. Rome is an amazing city. Every corner you walk around, you see something absolutely stunning. Thousand year-old buildings made out of huge rocks with massive columns in the front and latin inscriptions on top. The Colosseum where people were sent to fight with other people or wild animals - all for amusement purposes. The Roman Forum, now a collection of ruins of temples, shrines, plazas, and houses on in an area as big as two soccer fields. And the famous Spanish Steps.
When it became dark, we went to Trastevere, a romantic yellow-lit quarter with many small restaurants, to have a typical Italian dinner. We weren't quite sure what would be a typical meal so we stopped by one of the restaurants and looked at the menu. It occurred to us that they did not offer any lasagna so we asked for the reason. The waiter told us that none of the authentic Italian restaurants offered lasagna because it was a known fact that some of the most popular tourist places used leftovers for the lasagna layers. He said: "Lasagna is something you better eat at home." So we sat there having some delicious pasta at night in the most romantic quarter of Rome and although we had to pay extra for the table and the cutlery, we had a great time.
The next morning, the heat woke us up. I put on some shorts and a shirt without sleeves so I wouldn't sweat all the time walking across Rome. Our target of the day was St. Peter's Dome, the home of the Pope. We had some yummy pay-by-weight pizza and walked all across the city - fast pace because we did not have much time left and who knew when we would come back to Rome? It started to drizzle a little when we finally arrived the St. Peter's Plaza, a big square with columns in a circle and a monument in the middle. Entering the dome was free but when we arrived at the entrance, one of the sunglasses-wearing security men held me back and didn't let me in. It was the way I was dressed. People with shorts or sleeveless shirts were not allowed inside for some odd reason. Sybille and I had spent 24 hours a day together for almost a month now and it was inconceivable that only one of us would go to see something. Although we finally had the idea of switching clothes and going separately, I was not in the right mood to enjoy the beauty of the inside of the dome and the statues of the Popes made me more angry than happy (who would not let somebody in just because he was wearing shorts to not sweat all day?), although they were quite impressive.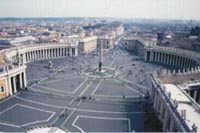 Nonetheless, Rome is one of the most beautiful cities in the world and one should take at least a week to see it. Many capitals have something great about them (although I didn't find that much of it in Athens) but Rome is just amazing. More familiar but also impressive was the next stop on our trip. We rushed back towards the railway station - grabbing some ice-cream on our way and taking a look at the Japanese-laden Trevi Fountain - to take the night train to the capital of France: Paris.