Siena
Yes, Siena is nice. It's actually very nice. We arrived and tried to find the campsite described in our travel guide. The address wasn't quite right, and the given bus number was probably also from 1972. But the interactive electronic tourist box at the station could help us out. It even printed out maps with the requested location marked. So finding the campsite was pretty straightforward. The bus ride was almost like a ride on a roller coaster. Siena is surrounded by mountains and the bus went up and down on some of them. The campsite was on one such mountain. We got a spot immediately.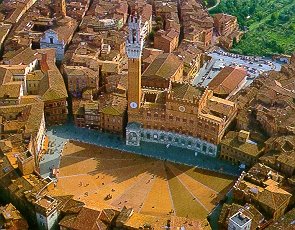 When we went downtown, a long winding road led us down the hill. We passed some really nice houses, very Southern style, lots of trees and plants. The city center is surrounded by a huge wall so we had to walk around it before we could pass the door to the inside. Once we were in, we hit the crowd. Every year, Siena has a huge horse race in the heart of the city. It's an old tradition where all the different city quarters compete. All of them have their own flag that is displayed in the streets. You can see their pride when you walk the city and cross the different quarters.
We were in Siena a few days before the race. We saw the huge square where it was going to take place and thought about staying for a few more days to see it. However, it would have cost us too much time and money since the tickets were very expensive. On the cheap spots, we wouldn't have been able to see anything anyway, somebody told us later.
We had a great time in Siena (except when we shed that boiling water on my leg) and if the pictures had turned out, you would now understand the beauty of the city. When we left, we didn't know what would expected us. We thought we had everything planned out and were looking forward to visiting the Tuscany. On the day we left, we were about to experience the black day of our trip. Go to Civitavecchia / Orbetello to see what happened.