Fort Dauphin - Tuléar, Day One
Tuesday, October 17, 2000
Many people had told me that the route between Fort Dauphin and Tuléar is one of the most beautiful and interesting routes in Madagascar. What held me back, however, was the fact that it was also one of the worst routes in Madagascar to drive on. Taking the taxi-brousse, i.e. sitting on a piece of wood squished between fifty other people for two and a half days (nonstop) hopping up and down would not have been an option, especially since I wouldn't have been able to take pictures and such. That's why I already had a plane ticket to Tuléar which I changed yesterday (my flight was going to go today) because, coincidentally, my plans changed quite radically. Yesterday, I went to Pic Saint-Louis, the highest point in the Fort Dauphin area and a beautiful panoramic view on the city and its surroundings. During the two hours straight-up climb, I bumped into this French couple. They had already rented a 4x4 to Tuléar and were willing to take me with them.
This is day one of four. About every two hours, the landscape changes completely. Not far from Fort Dauphin, there were palm trees and rice fields, as well as pitcher plants, i.e. plants that eat insects (you can open them and find halfway digested flies). This was followed by vast sisal plantations (sisal is used to make strings). Later on, we passed an amazing cactus forest which, I'm sure, you wouldn't want to walk across. Later in the day, the landscape seemed to become more and more dry and it was quite hard to understand that any vegetation could grow there at all - they call it "spiny forest": a very, very dry forest.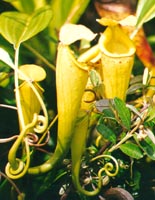 Somewhere during the last third of our day trip, we encountered the first Malagasy tombs, huge constructions built for one (dead) person. There were colourful paintings on the tombs and walls around them with zebu skulls. We didn't stay that long to examine the tombs any further since it was not very appreciated by the villagers. We finally made it to our first destination: Faux Cap. It is, I think, the Sourthernmost spot of Madagascar. I'm also in my first back-to-the-roots hotel room, a small wooden hut with a small mirror, a candle, and a bed inside - and the wind is blowing quite strongly.