Fort Dauphin - Tuléar, Day Two
Wednesday, October 18, 2000
It's amazing how, just by sitting in a car, one can experience so many different moods in only one day. Throughout the whole day, we passed these huge tombs. On some of them, there were vehicles or airplanes made of concrete, indicating how the deceased went to heaven. Building such a tomb typically takes a year, which is why we also passed some tombs in progress (usually just a collection of rocks). Later in the day, the tombs changed (from Antandroy to Mahafaly) and instead of airplanes, only a collection of totem poles remained on top.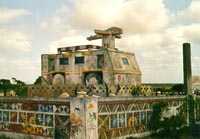 We stopped in a small town called Beloha and had a drink in a small bar. A small bar in a small town in Madagascar means a small room, old walls with 20 year-old posters and spiders, probably cockroaches, three tables, a counter, and an old radio. As we sat there, the barkeeper turned on the radio and the room was filled with the distorted sound of techno music (all radios I've seen so far in Madagascar have this property since everyone exceeds the volume about three times over the radio's limit which, by the laws of physics, reduces a speaker to a vibrating broken peace of cardboard - it hurts my ears sometimes). And there he was: a little boy, probably two years old, in the middle of the bar. While he lifted one leg after the other (he was wearing only a torn short and one sandal), people from outside stopped by to watch him dance. He obviously had fun and wasn't at all distracted by our looks - the impact of techno music.
Although the vegetation changes all the time, it is probably the coulour of the ground which sparks so many new ideas, moods, and "wow"'s. At times, it was dark red, constrasting with the green of the forest. Other times, it was brown or almost white, with dust blowing in the wind so the shrubs looked as if they had been dipped into a pot of flour. On the ground, from time to time: big turtles. Around noon, we hit very dense vegetation with cactus plants scratching the car's outside (ouch). Later on, when we entered Mahafaly area, we crossed a huge sandbank and it felt as if our car was swimming. Today, we went on roads you could not have driven on with any normal car. We were sometimes forced to do some pretty tough four wheel drive rock climbing. No problem for Olivier, out driver, who picked roads as if the direction was clearly sign-posted (there was not a single sign anywhere, only shrubs). And all along, the radio was playing music typically played in big grocery stores in North America at 4am. You know, those saxophones with string orchestras who play popular oldies - but this time vibrating according to the bumps we hopped over.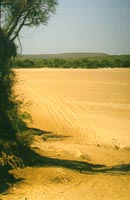 From the airplane, it looks as if there is absolutely nothing except the vegetation. But traversing the area on the ground, you find that there are people, animals, and villages everywhere. There are only few water stations and, thus, for some villagers, it takes as long as two days to get some water (one day to the station, one day back). Olivier had lived in this area and knew a few families here. As we stopped in a tiny village (about five very basic wooden houses), we talked to an old man. His wife and two pretty daughters were standing behind him when he told us that the village had suffered from famine for a long time. He pointed at his stomach and said he's been hungry for a very long time. In fact, the entire region was one of the poorest in the world with many families struggling with hunger every day. It is now that I realize how bad the situation really is in this country and how lucky I am to be born in a different world.
Day two ends in Itampolo with a beautiful sunset at the beach and a bunch of annoying French tourists (excluding the two travelling with me) - who I'm sure, have no clue what people are going through 5km from here. But why should they? As long as they have their beach and come back with a tan, the world must be alright.