Majunga
Friday, November 16, 2007
Ambato Boeni was a nice small town and I hadn't seen any tourists. Most likely because there was nothing specifically touristy about this place. Which, however, made it the more interesting since the people were genuinly nice. My mom took us here because, for one, she spent a lot of holidays here as a child.
On the other hand, there was supposed to be a nice night as well as day market. We visited both those markets. The day market was huge, diverse, and very crowded. People from all over the area come to sell or to buy things. Down at the riverside, there was a big cattle market with all kinds of Malagasy zebu. We took pictures and people wanted us to mail them to them. But upon asking, they weren't able to provide a mailing address execept something like "Joe in Ambato Boeni". So I guess that wouldn't work out.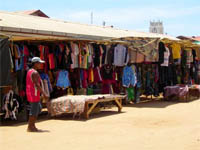 After a three hour drive, we made it to Majunga which seems to be a larger coastal city. It reminded me a little of Tuléar but with bigger streets and somewhat more spread out. Majunga's famous baobab is a huge tree close to the waterfront but in the middle of a roundabout. They painted the base white to protect it from car crashes. We had lunch before we went to find accomodation close to the beach.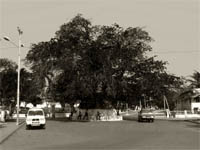 My mom had told us how the peasants in this area have trouble adjusting to the new field work methods taught by the government to increase the harvest. Apparently, a family typically has a day when they don't work. That day is different for each family. Now, when a man and a woman of different families get married, they inherit both non-working days. Which makes wonder how one would go about finding potential mates. This may in part explain why some people just seem to hang around in the shade all day doing nothing. Who knows? But in any case, it keeps the peasants from working their fields to the suggested schedule.
Well, we're close to the weekend and we will throw in our family-days-off now. Sitting around in the shade. Or at the beach.