Chapter Three: Back in Madagascar
Tuesday, November 13, 2007
I'm finally back! Didn't think I was going to return to Madagascar this soon but my parents offered one last family trip so I couldn't refuse. Seven years have passed and I have since travelled the world, visiting countries such as China, India, Brazil, South Africa, and Russia. But for some reason, my year 2000 trip to Madagascar has always been the measuring stick for all these ventures, wondering about such things as "Is it as hard to get around there as it is in Madagsacar?" or "Is the landscape is interesting as in Madagascar?" But, of course, none of these places are the same. India comes close but is more comfortable to get around, mostly for reasons of infrastructure but also because people are somewhat more trustworthy and reliable. Yet, Madagascar blew me away. I can't say that any other country did in the same way.
As always, arriving in Antananarivo ("Tana") brought those usual memories back. The air. It has a truly unique smell which I have never smelled anywhere else. After one day now, I don't realize it anymore but it's there. It's a little bit more humid this time around as it's November and the rainy season is just starting. But that's not it. Not even the smoke which seems to be less present than seven years ago. I don't know what it is but it's unique.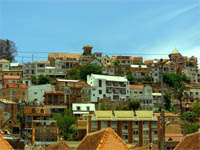 Tana has changed. Not as much as my mom would argue but in one day, I noticed a few things already: the traffic seems to be much better, fewer congestions, fewer air-polluting cars (still there but not as many).
They seem to have banned the really old broken cars and all taxis are now painted in the same cream colour as in Germany (the current president is apparently a big fan of Germany). Lots of these changes can be attributed to president Ravalomanana who initiated this whole emancipation from France. The kids now learn English in school. Lufthansa Consulting pretty much runs Air Madagascar. And the old currency Ariary is now the official currency. The Franc Malgache (FMG) still exists, however, at least in people's minds (which makes it very hard to determine an actual price when quoted). It's symptomatic. France's influence is still very strong and during Ravalomanana's term, it won't be possible to claim Madagsacar's "actual" independence.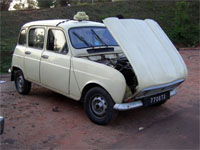 It seems so easy to get around this time because my parents have done all the dirty work of hiring a 4x4, negotiating all the ins and outs, and basically coming up with an interesting itinerary. Maybe it's that or the fact that I've gone through all of this before that I don't seem to experience any kind of culture shock. In any case, it feels nice.
So let the trip begin.